Local Maine Lighthouses
Maine's jagged coast and hundreds of peninsulas are breathtaking, but once proved quite dangerous for navigation. Beginning in the 18th century, architects and engineers began work on ensuring the safety of those at sea by constructing beacons that dotted the coast. For a state boasting nearly 70 lighthouses, seeing the lighthouses in and around Bath is especially easy, thanks to over a dozen classic New-England-style lighthouses being located just a short distance from the Inn. So enjoy a great breakfast, and venture out to see them!
Doubling Point Lighthouse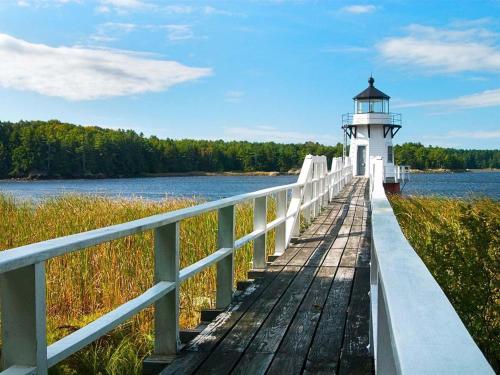 Built in 1898 to assist ships in navigating through two of the Kennebec River's sharp right-angle turns, the 23-foot-tall Doubling Point Lighthouse sits at the end of a long catwalk on the grassy shores of Arrowsic Island. Currently preserved by The Friends of the Doubling Point Light, the lighthouse is a convenient five-minute drive from the Inn, but those looking to really get their feet wet can kayak or row the four short miles.
Squirrel Point Lighthouse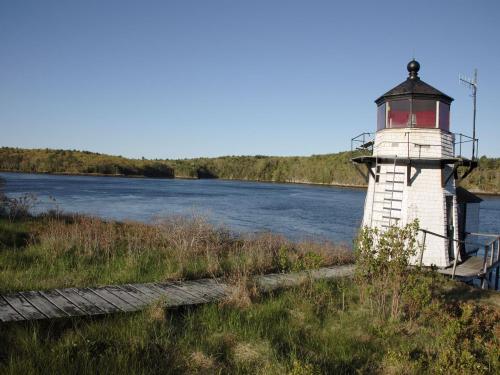 Seven miles south of the Kennebec Inn Bed and Breakfast, directly across the river from the Phippsburg Congregational Church, the 25-foot Squirrel Point Light nestles into 640 acres of breathtaking conservation land (free to the public) that has long been popular among artists, fishermen, hikers and anyone looking to escape to the great outdoors. Joseph and Leanne Robicheau currently serve as lighthouse keepers at Squirrel Point, which is still maintained by the Coast Guard and used for navigational purposes.
Seguin Island Lighthouse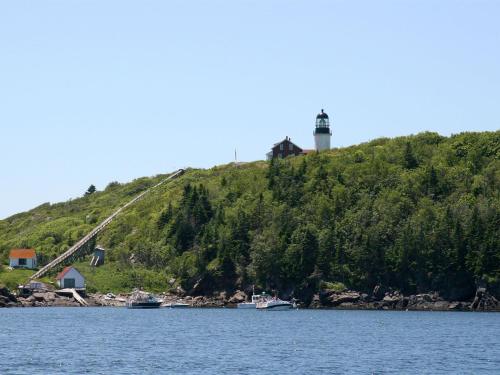 Maine's oldest and tallest, the Seguin Island Lighthouse stands 180 feet and was commissioned by George Washington in 1795, although the current structure was built in 1857. Located 30 minutes from the Inn, and accessible only by boat, visitors to the Seguin Island will find 64 acres of pristine scenery that features five hiking trails, a museum, library, gift store and Maine's last working tramway, which was installed in 1895 because of the steep incline to reach the lighthouse. There are several local boat charter companies that can get you there.