About Kennebec Inn Bed and Breakfast in Bath Maine
The Inn: Ranked #1 in Bath, Maine on TripAdvisor!
An authentic Maine experience...
Kennebec Inn Bed and Breakfast in historic Bath, Maine is a Midcoast Inn providing premier amenities of a boutique hotel, while balanced with the personalized service and authenticity only intimate lodging accommodations can provide. Innkeepers Kenneth and Rachel Parlin invite you to come see why the Kennebec Inn has been the B&B of choice by guests of Bath, Maine for over ten years.
History
This grand Italianate house was built in the early 1850's by Captain James B. Perkins during what was coined "The Halcyon Days of Bath." Captain James B. Perkins was a master mariner and held substantial investments in the Eastern Steamboat Company, of which Perkins was the initial director in 1869. The house was then sold in 1865 to Sea Captain Samuel B. Reed, who was later lost at sea in 1869. One hundred and fifty-five years later the house was purchased by Ken and Rachel where they meticulously restored it to its former beauty. For the past ten years, they have been offering this bed and breakfast as your home away from home.
Location
Located perfectly along Maine's Mid-coast Route 1 corridor, Bath, Maine is the ideal location to explore all the Mid-coast region has to offer. Experience Freeport shopping, Rockland museums and Camden sailing via short trips through New England towns and sea side villages. Visit our coastal neighboring towns of Phippsburg and Georgetown to take in the pristine beaches or to hike to beautiful lighthouses and historic forts along the Kennebec River. Enjoy a short walk along un-crowded sidewalks to Bath's many fine shops, galleries and restaurants that have helped define this shipbuilding town as Maine's "Cool Little City". Or, simply remain at the former home of one of Bath's historic Master Mariners, and surrender to the Inn's park-like grounds for a fresh seafood picnic over a good book or a poolside cocktail.
Whether taking short trips, staying local, or never leaving the Inn at all, the Kennebec Inn Bed and Breakfast would love to help you enjoy your next trip to Bath, Maine. Check out the wonderful video below by Tom Richardson at New England Boating. The video features many highlights of our wonderful city.
The Grounds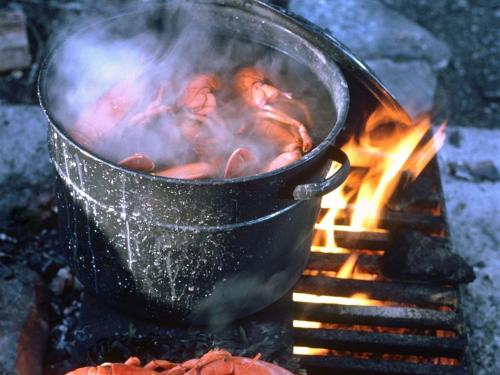 With one of the largest centrally located and privately owned plots of land in the Bath city-area, the Kennebec Inn Bed and Breakfast provides guests with convenience to town while still preserving privacy to enjoy the grounds. The Bed and Breakfast rests on a unique, park-like plot of land—dotted with lilac and thistle plants—where grass rolls out to the back woodline of weeping willow trees. Enjoying the grounds comes easy and is highly recommended as there are picnic areas to savor a meal or snack, an in-ground pool to take in the sun or swim, and an outdoor fire pit to cook your own New England lobster bake or simply relax with an evening cocktail by the fire.
The Breakfast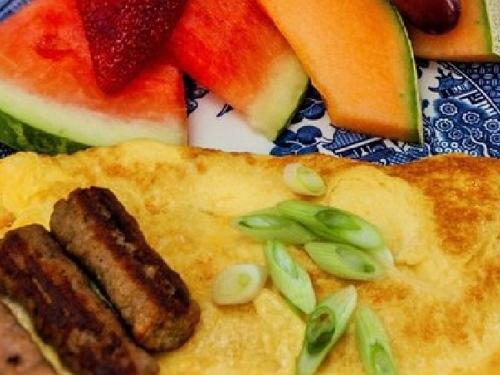 Awake to an early cup of fresh coffee enjoyed on the porch during the warmer months or by the wood burning fireplace during the winter months. Meanwhile, Rachel will be preparing one of her popular morning breakfast dishes, such as a potato quiche, praline french toast, stuffed crepes or sweet potato frittata, just to name a few.
Mornings at the Bed and Breakfast are renowned for the sweet aromas of blueberry scones, pear ginger tarts and cinnamon rolls, as well as the savory aromas of bacon and sausage that often complement the three-course breakfast served on beautiful Blue Willow China. For the more health conscious, you will be delighted by the fresh fruit the Inn serves aligned with in-season varieties—strawberry and rhubarb in June, famous Maine blueberries in August, or fresh apples handpicked from Rachel's favorite orchards in October.
Have special dietary requirements? No problem. Rachel spent 23 years in the culinary profession; she'll ensure exacting dietary compliance. Just let her know before you arrive, and who knows, she may even prepare special treats for you to enjoy throughout the day.
Fresh brewed coffee is ready by 7:00 a.m., and breakfast is served in one seating at 8:00 am. If you will need to eat earlier or later or have a special request, let us know and we will do our best to accommodate you.